The Great Boy King Tutankhamun, or commonly known as King Tut, was the Pharoh all of Egypt. King Tut reigned from 1332 B.C at an age most of us would be playing video games. He ruled over the 18th dynasty at 9 and died mysteriously at 19. 
3000 thousand years later the Boy Kings rest is disturbed by a band of adventurers. A terrible curse was unleashed, King Tut was not going to let his tomb be defiled. 
The Curse of King Tut & Howard Carter
---
The Great Pyramids Today. Image via – Unsplash
The 19th century was an era of discovery, exploration and adventure. Not to forget National Geographic! A new craze was sweeping the world, a craze for old Egypt's dead kings along with the fame and riches their tombs were said to contain.
Countless men and women scoured Egypt and have searched its deepest recesses for any knowledge on the whereabouts of these legendary treasure hordes. However, they were not the only ones to have this dream.
Ancient grave robbers had beaten them to it. They had chiselled there way past the blocked entrances, tricked the booby traps and stripped the tombs bare. All but one.
1891 was the year an adventurer, bolder than most, by the name Howard Carter found himself in Egypt. He was obsessed with the notion of there being at least one tomb still untouched. The tomb of the Boy King Tutankhamun. King Tut at the time was almost unheard of. 
Carter had found himself a backer in the wealthy Lord Carnarvon and set off on his expedition. 
For 5 years Carter dug and found nothing. With Carnavon's investment showing little return, he was ready to call it all off and in 1922 Lord Carnarvon called to do just that. Carter flew to England and persuaded the English Lord to back him for just one more season. 
Returning to Egypt, Carter knew fine well this might be his last expedition. This time he brought a little yellow Canary with him. The Egyptians believed them to bring luck and fortune. " A Golden Bird! " Carter's foreman explained, " This will lead us to King Tut's treasure! ".  It did just that… 
Howard Carter & Lord Carnarvon at the tomb's entrance. Image via – Pinterest
On November 4th, 1922 Carter's workforce discovered a deep and thick step cut into the base of another pyramid, covered up by some of the debris left from the construction of the tomb of Ramesses IV. The carried on digging like men possessed and unearthed 15 more deep cut steps. These steps led to an ancient and intact doorway with an inscription of the name Tutankhamun.
That night Howard Carter when home with the intention to telegram Lord Carnarvon and insist he come to Egypt at once for the opening of the tomb. He was met at the door by his frantic servant. The man looked terrified and was clutching a hand full of tiny bloody, yellow feathers. A King Cobra had broken into the house and killed the canary. 
Carter, first and foremost being a practical fellow told his servant to find this cobra and rid it from his home, he turned to leave. As he was turning the servant clutched at his sleeve, pleading " That is the Pharoh's servant and he has sent it to kill the bird for leading you to the tomb! You must not disturb Pharoh Tutankhamun's peace!"
Carter thought nothing of it and sent the man home. 
The unbroken seal on the entrance to King Tut's Tomb. Image via – Rare Historical Photo's
Carter waited until the following morning to send his telegram to Lord Carnarvon and then anxiously awaited his arrival. 
The English lord arrived on November 2nd and at once made his way with Carter to the Tomb's entrance. It appeared intact, it had been tampered with in ancient times but the inner most part was untouched. He and carter made there way down to penetrate a door that had been sealed for over 3000 years. 
Carter began to make a hole in the King Tut's tomb door when all might gust of wind blew down into the tomb and brought with it yellow feathers. This terrified Carter's workers but he carried on until he had a hole large enough in which to take a look inside. He lit a small wicker candle and leaned in. 
" Can you see anything !?" explained Lord Carnvarnon. " Yes " replied carter and then taking a deep breath he let out a boom of laughter, " Wonderful, Wonderful things!". 
King Tut's Main Chamber in colour. Image via – Sayud
The day King Tut's tomb was opened was one for celebration. Nobody was concerned with any supposed Pharoh's Curse.
King Tuts's tomb truly contained a King's hoard, there were mounds of heavy golden treasure and perfectly preserved scrolls. It also famously contained the worlds' most expensive 3 layers solid gold sarcophagus all lying within King tut's great stone case. 
Rumours would later tell us that Carter discovered an ancient stone tablet in the tomb with the inscription " Death shall come on swift wings to him who disturbs the peace of the King." Carter supposedly hid the tablet to keep the peace amongst his workers. He would later deny this. 
Howard Carter and the first opening of the sarcophagus- Image via – Proforbes
1923, " The Curse of the Pharoh"
---
A few short months after the opening of King Tut's tomb the worst happened. Lord Carnarvon took ill and was rushed to Cairo's hospital. He died two days later. The exact cause of his death is still speculated over but it seems to have been an infection spread from a mosquito bite. 
Legend tells us that at the exact moment of Lord Carnarvon's death all of the lights in Cairo went out. His son also tells of the family dog howling and then dropping dead, also at the exact same time… Stranger still was the discovery of a small cut discovered of the left cheek of King Tut when he was unwrapped. This cut was in exactly the same spot as the fatal mosquito bite suffered by Lord Carvanon…
The Mummy of Tutankhamun – Image Via – National Geographic
Another little known cursed object found in the tomb of King Tut was that a small gold bracelet found on the wrist of a severed mummified hand. With an inscription that read " Cursed be he who moves my body, to him shall come fire, water and pestilence." This bracelet was gifted to a Sir Bruce Ingham. Subsequently, during his time in possession of the bracelet, his house burned to the ground without any apparent cause, and whilst trying to rebuild from the ash his lands were flooded. 
By 1929 eleven people connected to the opening of King Tut's tomb had died either early or of unnatural causes. This included two of Lord Cater's relatives, Howard Carter's personal secretary, Richard Bethel, & Richard Bethel Senior or Lord Westbury. Lord Westbury killed himself by jumping from the roof of his home. He left a note that read " I really can not stand anymore horrors and hardly see what good I'm doing here, so I'm making my exit". 
What horrors exactly, Lord Westbury was subject to we will never know. Could King Tut's curse have found him to?
An exact depiction of King Tut's tomb. Image via – campusghanta.com
By 1935 the press had given credit to ' The Pharoh's Curse ' for over 21 deaths, all of whom had some relation to the discovery of King Tut's tomb.
King Tut's Killer Fungus? 
---
You can imagine the storm of attention a title such as 'The Pharoh's Curse' attracted. It gripped the public and it still does today. Of course, this encouraged sceptics and more factual minds to come up with a logical solution that would disprove this nonsensical notion of ancient magic. 
Several experts suggested the illness may have been attributed to a deadly fungus dubbed 'Bat Guano' a fungus known to grow in the presence of bat droppings. The fungus can cause a fatal respiratory sickness known as Cave Sickness. In the case of King Tut, nothing of the sort was ever reported. 
Another look at King Tut's Treasures. Image via – Sigrid's Adventures
Cave sickness was not the only theory to arise. Mummification was a long process involving countless toxins including; formaldehyde, hydrogen sulphide & ammonia, all of which attack the lungs. 
Harold himself lived to the ripe old age of 64 until he eventually was infected by Lymphoma. It has been theorised different toxins can cause Lymphomic symptoms. However, Carter would have been one of the men who spent the most time in the closest proximity with the mummy of King Tut and within the tombs itself. He lived for another 17 years. Killer Fungus or Pharoh's Curse? 
Whatever unearthed logic might be thrown at this king of mysteries, there will always be something magical about the discovery of King Tut's tomb and the tale of 'The Pharoh's Curse'.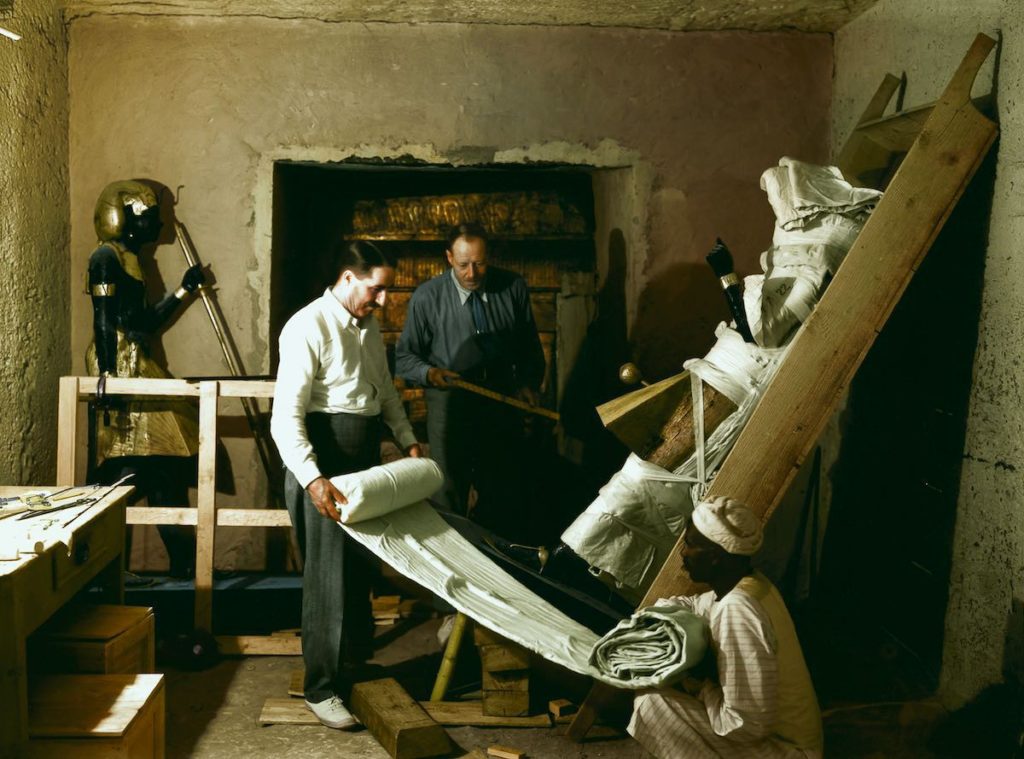 Howard Carter, we salute you. Rest in peace.
The Life and Death of King Tut
---
King Tut was born in the year 1341 to a religious fanatic and revolutionary, Pharoh Akhenaten. The Boy king's first action when he came to power was to systematically deconstruct everything his father had built. He was only 9. 
King Tutankhamun also suffered from a large range of illnesses and deformities. Some experts would claim this to be a direct result of generations of incestual relationships.
A large number of canes found within the tomb itself would also tell us he had a great deal of trouble walking. 
He went on to marry his half-sister Ankhesenamun and the royal couple had stillborn twins.
King Tutankhamun died in 1323 B.c at only 19. He left no heirs or solid explanation as to the cause of his death. His tomb appeared to have been rushed, his coffin was second hand and his heart was missing… 
The great boy king Pharoh Tutankhamun was buried in the world's most expensive coffin in Egypt's smallest royal tomb.