There are certain objects in the world, objects that have been cursed or possessions who where once loved by someone who is gone. Doll´s, paintings, corpses you name it and someone collects it. However there are certain objects that do a little more than move around, certain objects that are literally destroying the lives of those who have crossed them. These items have some trace in there past of black magic or something tragic. But what they can do is on a whole different level to some gliding see through women. We have constructed a list of objects that are doing just that and more … 
10. Myrtles Plantation Mirror
---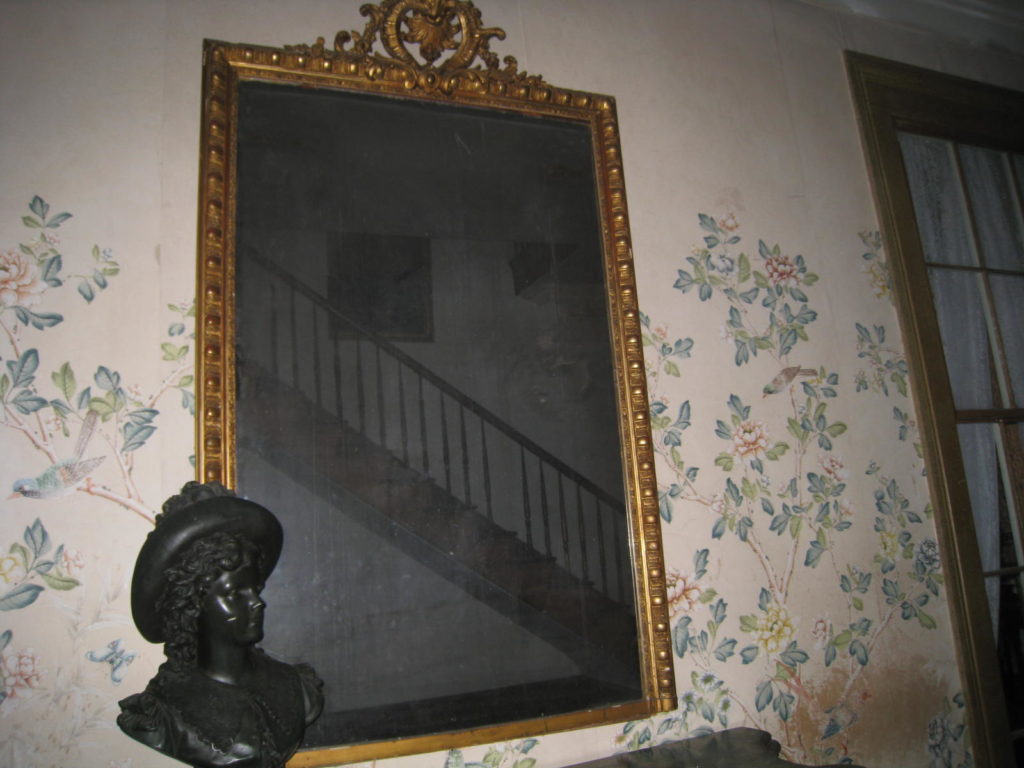 There are dozens of legends surrounding this old plantation that was once home to a great mass of slavery, cruelty, toture and ofcourse Voodoo! Ofcourse it is named one of the most haunted locations in America, but alot of people believe that the brutal hauntings are caused by this mirror. 
The story goes that one of the abused slaves baked a cake for the lady of the plantation and her two children. The cake was laced with oleander… a poison used to kill. The lady Sara and her two children are now trapped within the mirror and they died directly in front of it, when it was a center piece in the parlor. 
Visitors now report seeing hand prints on the glass, allegedly belonging to the slain Woodruff family. There are also long drips that run down the mirror that no amount of cleaning can remove. People who have looked into the mirror for a long period of time have become sick or fainted after seeing what they described as a sinister looking women. 
Is it possible that the murder of this family trapped something a little more evil than a family of three, or is there unforeseen voodoo or woodoo spell placed on the mirror, ofcourse this would not have been documented. All we can do is look into the mirror ourselfs and wonder what is behind the glass looking back at you….
9. Rock's of the Uluru Mountain 
---
The Uluru Mountain is a true monolith in the heart of Australia´s northern territory. Over 550 million years old you can only begin to guess what kind of events have taken place on this very site. With over half a million tourists coming out to see it a year, its become a meager tourist attraction. However there is something behind the beauty, and the indigenous have been warning the government for years. 
People have been returning rocks they took from the mound as souvenirs everyday for years. The park rangers have begun to call them " sorry rocks ". They blame the rocks for chains of bad luck, accidents and even death in there families. But this is what happens when you dont listen to pagan people who warn of things such as curses and magic. Looks like good old trusting logic didn't do much good here. 
Uluru is more than just a rock, it is a living cultural landscape that of which is considered sacred to the Yankunytjatjara and Pitjantjatjara people. These people of the land are the traditional owners and guardians of the Uluru-Kata Tjuta National Park. This special place carries great spiritual and cultural significance for these local indigenous tribes with over 40 sacred aboriginal sites and eleven Tjurkurpa or Dreaming trails present in the area.
30 people have died trying to climb the rock, countless aboriginal burial sites and who knows how many countless events, deaths, religious ceremonies, murders or amounts of suffering happened here. One of the most haunted sites in Australia, and all should know not to disturb those old pagan burial sites. 
8. The Anguished Man
---

There is alot of haunted artwork out there, or atleast supposed haunted artwork. The Anguished Man is one of the very first and one of the worst.
When Sean Robinson´s grandmother passed away, he inherited this painting titles the Anguished Man. It had been an unwanted gift from a friend. She had hidden it in the attic for over 25 years. She told him ever since she had received the painting a dark figure had begun walking around the house, and she would hear painful screams coming from the painting. 
He himself being a skeptic he thought nothing of it and hung the painting in his home, god knows why. But soon enough he and his wife began seeing the dark figure his grandmother described, along with the screams. One night the dark figure even stood at the end of there bed watching them sleep. But displaying the painting seems to have evoked the spirit further as signs of poltergeist activity where now showing up. They began to record some evidence which you can see here. EVP  and  Poltergeist activity 
On further research it was discovered that this painting was painting with  blood of an artist who committed suicide after finishing his final piece. All of this pain and suffering followed by death trapped in a single image, no doubt it is haunted. 
After selling the painting it has been subject to countless experiments. Almost all of which seem to provoke violent poltergeist activity and the conjuring of this large black man. Is the black man the artist or something else entirely ? One thing is for sure not the nicest piece to display in the hall. 
7. The Hope Diamond
---
The Hope diamond is a 112 3/16 carat blue diamond. This old jewel has been worn my thief's and kings alike. The Hope Diamond originates from India. According to myth a man called Tavernier stole it from a shrine of the Hindu Godess Sita. He was then savaged by a pack of wolves. It passed from person to person and tragedy after tragedy it ended up in the hands of King Louis XIV, he bought the diamond along with over 1000 others from India in 1668. The King and his Queen where later beheaded as part of the French Revolution, which has actually been blamed on the diamond. It along with the Crown Jewels where stolen and didn't surface until 1813. 
It ended up in a wealthy merchants hand called Henry Phillip Hope they family quickly went bankrupt and sold on the diamond. Eventually the diamond was set into the necklace seen above and bought by a Evalyn Mclean. She wore it constantly thinking it a good luck charm. Soon after her son Vinson died in a car crash at age 9, her daughter committed suicide and her insane was sent to the mental asylum. She herself died two years later of causes unknown. 
The Hope Diamond has been on display in the Smithsonian Institution since 1958 until the present day. The museum is full of ghostly activity. Objects moving, people being nudged and pushed and a large figure of a man with no face seen walking around the museum. The Hope Diamond is often moved around, staff will come in and find the Diamond on top of the locked case it was once displayed in or in a different case altogether. Two men who have been hired to clean the diamond have died shortly afterwards and gassing upon it for to long as sent people home sick for days. No doubt this Diamond has some form of curse or attachment. 
6. The Women of Lemb Statue
---
They call it the Goddess of Death, but its real name is the Women from Lemb. This is perhaps the strangest of all the haunted objects in the world, a statue carved from pure limestone that was unearthed in Lemb, Cyprus 1878. The exact date of the cursed statue is unknown but it was created somewhere around 3500 B.C.E, making it 5516 years old… But the fame for this totem comes from the mysterious, and deadly effects it has had on its owner.  
The Women from Lemb has had 4 owners since the time of its discovery, and all of them died under strange circumstances. 
The first was Lord Elphont, after acquiring the statue all seven members of his family died within 6 years. The next buyer was a man called Ivor Menucci, who's entire family died within 4 years. Lord Thompson who purchased the statue from an estate auction brought the statue home, 4 years following this, his entire family died… again within 4 years.
The statue dissipated for a short while following the chain of deaths, no doubt bringing death on its journey, but it resurfaced again in 1917 and was purchased by Sir Alan Biverbrook. Surprisingly his entire family died shortly afterwards, apart from his two sons.
But before the seemingly cursed artifact could finish its dark work, Biverbrook's two surviving sons donated the statue to the Royal Scottish Museum in Edinburgh, Scotland. To top off the mystery, the museum curator who handled the statue died within a year.
And so it's at the Royal Scottish Museum where the Women from Lemb statue now rests, guarded from the world behind glass. Or, should I say, we are guarded from it.
5. The Hand's Resist Him
---

This nightmarish painting was originally a photograph of a little boy called Billy Stoneham on a farm where he was adopted, in the photo he was standing in front of a glass door, no doll no hands. Turns out this farm was a hell hole, he hated it and the people who adopted him. He slept on rags on the floor and felt imprisoned. 
Later in his life he decided to paint this photograph but in a way that would express how he felt on the farm, his wife write a poem after seeing the painting called " The Hand's Resist Him ", so it was named. 
He sold the painting at auction in 1974,to a guy who was an actor in the Godfather, called John Marley. He was the guy who woke up in the bed with his favorite horses head cut off and at his feet, screaming. Between 1978 and 1984 three of the men who came into contact with the painting died… Seldis in 1978, Feingarten in 1981 and Marley himself in 1984.
It would be 26 years until the painting would arise again, found abandoned by a young women who wandered why a perfectly good painting would just be thrown out, she soon realized why… Later described in her eBay description she would tell how her house became home to something/somethings evil, and her four year old daughter became terrified of the painting, claiming that the girl was trying to shoot the boy or both of them would come out of the painting into the house.
It eventually ended up in the house of a collector called Kim Smith. He has only to date brought it out to show six times. Each time there have been reports of people becoming violently ill, being followed home and hearing demonic screams and seeing black shadows or just people passing out. It also induces headaches and sickness by looking at any image of the painting, like the one just above….
4. Annabelle
---

Anyone out there who has googled haunted objects or is just a fan of horror movies will most definitely, heard of Annabelle the doll. She has been at the top of most haunted lists for years past and probably years to come, but can we be sure anything is still there ?
This satanic little toy's story begins with a girl called Donna, who was a young nurse at the time. She collected dolls and her mother and found a rather rare one in a thrift store in 1970. She took the doll to her daughters house where is was left on the bed. She went out only to come back and find the doll on the sofa in the main room. 
The doll began to move around so much that she decided to call in a psychic, who kinda F*$'ed up and said the doll was possessed by a little girl called Annabelle who was scared and alone but felt safe in the 3 bedroom apartment with Donna and her friends. 
After accepting Annabelle, soon after Loe, the guy in the apartment began having horrific lucid dreams. He dream't that Annabelle was crawling up his legs and strangling him, then he would splur and pass out. Convinced they weren't dreams at all he told the girls who found he had deep gashes on his chest which flared up, bled and then dissipated three days later. Then the doll began to bleed and leave notes around the house written in what looks like blood saying " Miss Me ?"
So enter the warrens, who took the doll. The doll however has claimed the lives on many since that day. One in particular was a journalist who mocked the doll and tapped on the glass saying "Come on then, do something". He died on his way home in a freak car accident… It looks like he just turned on purpose and went straight into a tree… Next was a priest who actually threw the doll against a wall and proclaimed "Satan you have no power here !". He also had a car accident on his way home from the event.
Today Annabelle is the crown jewel of the Warrens occult museum, it is kept in a holy water encrusted case and blessed once a month. No activity has really been recorded for quite a while so unfortunatley this just cant top our list but its defiantly on here. 
3. Dybbuk Box
---
A Dybbuk or Dibbuk box, a certain box that in Jewish folklore contains a restless spirit of evil intent. There are a ton of Dybbuk boxes out there, just have a look on eBay, however there is only one Dybukk box that ever comes to your mind. A little Jewish, wooden wine cabinet that has left a trail of death and destruction… where it goes…
The Dybukk box first comes into the public eye in 2001. An old antique dealer attended an auction sale of 103 women who had recently passed. He ended up buying the little wine cabinet, then the granddaughter came running across before he left. She told him that her grandmother was Jewish, and a survivor of a Nazi concentration camp, and how she was warned never to go near the box. When he tried to give it back she yelled at him "We made a deal! You have to take it!".
So he didn't think much of it, just a crazy family… He took it back to his shop and placed it in the basement. Immediately, crazy things began to happen and his employee who was working alone at the time called him up, demanding that he comes straight back… She told him that all the lights had gone off and there where screams coming from the basement, not to mention all of the doors being locked. He returned to the shop, broke down the door and was overwhelmed by the smell of cat pee. Every single light bulb was smashed in the entire store……
He tried to give the box to alot of his different friends who all returned it quickly, claiming that there was a shadow in the house moving things around and they where having horrific nightmares. So he gave it to his mum, what a thoughtful guy. His mother suffered a stroke shortly afterwards. In the hospital she gave a note to her son with tears running down her face with the word H-A-T-E-G-I-F-T written clearly on the paper.
The box has passed from owner to owner, and death after death, sickness after sickness… It is now in the ownership of a man in Kentucky who has buried somewhere on 10 hectares of land, in a military grade box. 
2. Otzi the Iceman
---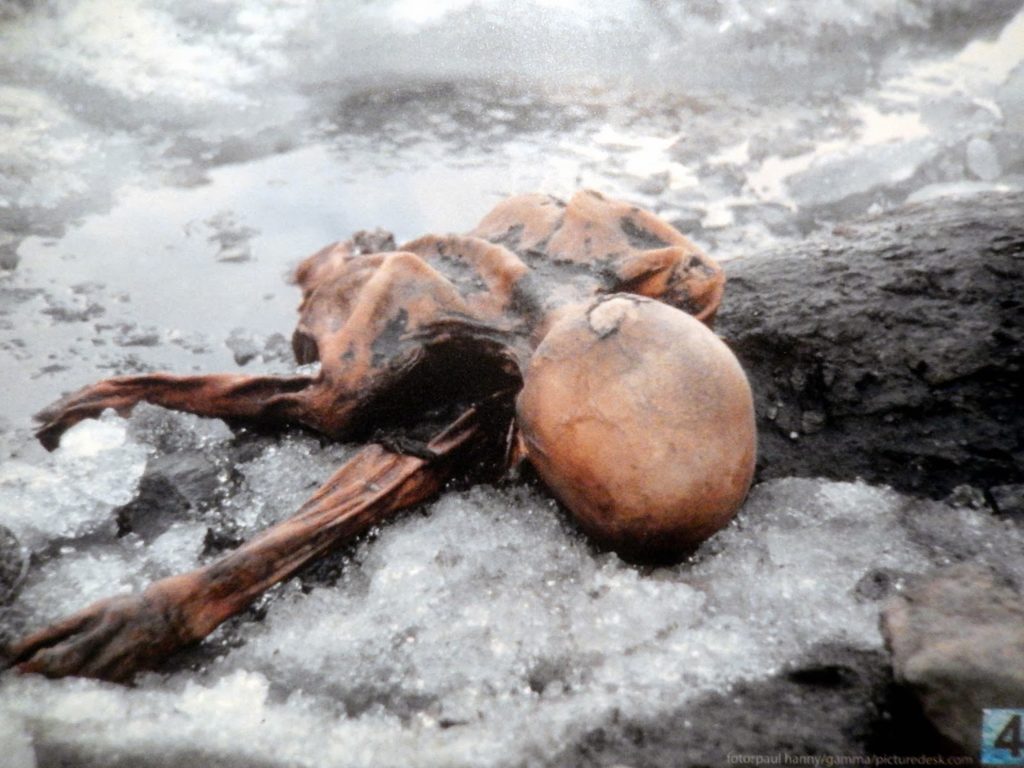 Otzi the Iceman has been perhaps the most mysterious and deadly of all haunted objects in the world. Otzi was a miracle, one the best preserved natural mummies in the world. Discovered by two German hikers in the Otztal Alps in September 1991, it soon make a mistake that would have fatal repercussions for all involved. 
Otzi the Iceman was discovered by Helmut and Erika Simon on the Austrian Italian border, 10,530ft up. Thinking it was a fallen hiker they quickly contacted the police, who didn't touch the figure but who then in turn got in touch with forensic experts. They took Otzi and dated him at around 3,300 BCE. 
Helmut one of the original hikers was the first to die, he was caught in a freak blizzard almost exactly in the same spot where they discovered Otzi. Rainer Henn, lead investigator of Otzi's forensic team, died in a car crash soon after, then Rainer Hoelzl the man who filmed the removal from Otzi's icy grave, died of a brain tumor. A few more people died quickly after coming into contact with Otzi. One even died of a rare and incurable blood disease. 
Like the Discovery of the Pharaoh Tutankhamen, all those who came into contact with the corpse died. Also turns out Otzi was murdered… However there are theories that he was a ritual sacrifice… Never mess with pagan burial sites, or sites where any demonic worshiping has taken place. It never ends well. 
1. Robert the Doll
---

Robert the doll is without doubt the worlds most haunted object. It has caused more psychical manifestations in peoples homes, the most intelligent responses, and the most tragedy. 
In 1986, this creepy ass doll belonged to a kid named Robert Eugene Otto in Key West, Florida. The doll was a gift from a particularly nasty slave of the family, who practiced black magic and openly hated the family that had enslaved her. Robert love this doll, he spend days talking to it for days, the servants however became concerned, they began to hear voices other than the little boy's coming from the room. Men's voices…. The neighbors also claimed to see the doll moving around the house in the windows when there was nobody home. 
Shortly after the doll became mischievous… it began smashing entire rooms of the house up and the boy would he blamed. He insisted that is wasn't him, that it was the doll. 
Robert inherited the house when his parents died, now a fully grown man, but he kept the doll… and he wouldn't be seen without it. He died in the house in 1972 and a family moved in shortly afterwards. The daughter of the family had went into the attic and found Robert the doll but she was instantly terrified of it. She said the doll was alive and it wanted to kill them…
The doll was donated to the art and history museum in the Key West. Staff are insistent, even today that you dont take Robert's picture without asking and under no circumstance do you mock him. The museum is flooded with letters apologizing for taking pictures of  Robert without permission. They claim there lives have been ruined, relationships destroyed, bankruptcy and sickness. But those who have taunted him have ended up dying under strange circumstances. Don't mess with haunted dolls, it may be the last thing you ever do.. 
Comments
comments